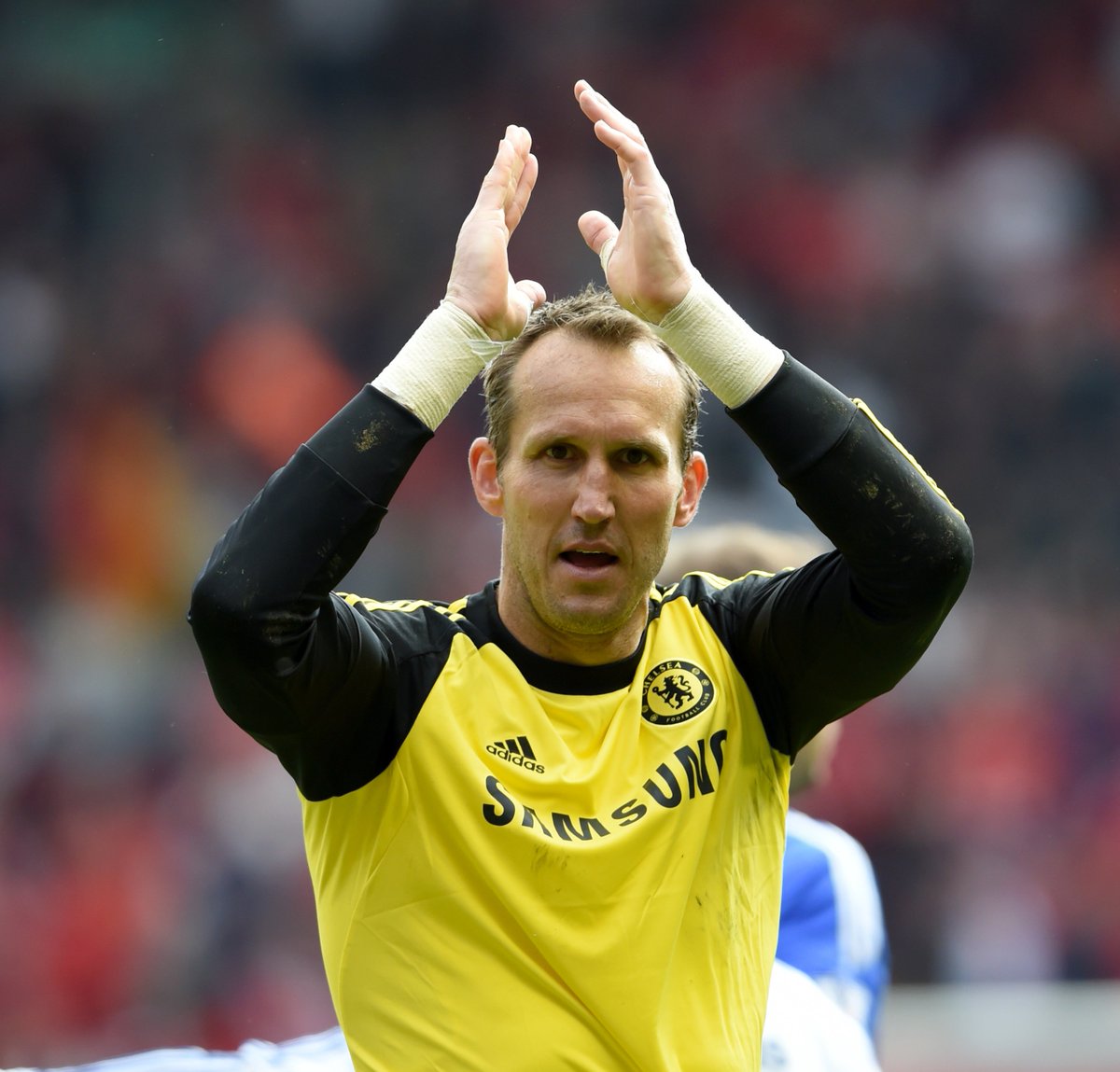 Photo- Twitter @ChelseaFC
I chatted recently with former Premier League goalkeeper Mark Schwarzer. Mark played until he was 43 with clubs like Middlesbrough, Fulham, Chelsea and Leicester and played in two World Cups with Australia. First of all, I wanted to know the story of how Mark got into goalkeeping.
"It all came about because of my dad really, he was a massive football fan. In Australia you could end up playing a variety of sports whether it be AFL or rugby league, but my dad always pushed me to play football. My dad coached the team I played for and one day when no one wanted to go in goals, he put me in goals. He claims to have put me in there because I always tripped over my own feet while playing outfield." 
That story shows how chance happenings can end up putting someone on the path to success. Mark's parents were born in Germany and I asked him how he came to play in the Bundesliga.
"It was back in 1994 and there was no freedom of movement within the EU. I have a German passport as well as an Australian one and had I moved to anywhere other than Germany, I would have been classed as a foreigner. Only three foreigners could play for a club at one time. Obviously, there was my German background but the main reason was because it was easier to go there than anywhere else.
After Germany, Mark went to England where he had a trial with Manchester City and eventually signed for Bradford in 1996. He told me about the early part of his career in England.
"I always wanted to play in England. I thought that if I found a club and a manager who believed in me then I could prove I was good enough. I had a trial at Man City who were obviously a lot different than they are now. They were in financial turmoil and Steve Coppell could only take me on loan, but I wanted a permanent move. I played a reserve game for Man City against Bradford and that's how I came to Bradford's attention."
"I felt Bradford was the right move for me, I wanted to play week in week out. Things then just happened really quickly, I played 13 games for Bradford then went to Middlesbrough."
Mark joined Boro in 1997 and stayed there for 11 years, winning the League Cup, reaching the UEFA Cup final and making 367 Premier League appearances. I asked him about his time at the Riverside Stadium.
"It was an incredible time. I played with the likes of Juninho, Emerson, Ravanelli, Paul Merson, Andy Townsend and Paul Gascoigne. We won the first major trophy in the club's history, the Carling Cup which was obviously a high. We also got to the UEFA Cup final, so that period was pretty special. Even though we lost to Sevilla it was the most incredible journey and an amazing accomplishment for a club like Middlesbrough."
In the summer of 2008, Mark felt it was time to leave Middlesbrough if he was to prolong his career. He wanted to prove people wrong and show that he could still compete at the highest level. Mark received offers from both Bayern Munich and Juventus but they wanted him as a substitute goalkeeper.
Mark joined Fulham in 2008 where he reached the Europa League (UEFA Cup) Final for the second time. Fulham were almost relegated in 2008 but they finished 7th in 2009 and reached the Europa League final in 2010. Mark enjoyed the cup run because people doubted their ability as a team.
"We were a bunch of misfits that were put together. We were viewed as past it and not good enough. We arguably played our best football in those two years. We beat teams that no one gave us a hope in hell of beating."
As Mark moved into his forties, he joined Chelsea where he was number two to Thibaut Courtois. I asked him how it felt to be second choice.
"It was really hard, even though I was 40 years old. I had opportunities to go elsewhere and play week in week out but they were further away than were I lived. I didn't want my family to travel and Chelsea was a phenomenal club. I got to play Champions League football which I never had done in the past. I got to work with Jose Mourinho, play with Terry, Hazard and Cech. When I was watching the first game of the season from the bench, I wondered if I made the wrong choice, but I got to play in a Champions League semi-final."
Mark then told me about how the expectations at Chelsea were higher than at any of his previous clubs. "The expectation was to win every time you crossed the white line. You need to win the title, the cup and challenge for the Champions League."
With 109 caps, Mark is Australia's most capped player of all time. I asked him about his international career. "I played in two World Cups in 2006 and 2010. 2006 was the pinnacle, it was so well run and fan friendly. Everything was more compact in Germany than South Africa." Australia reached the last 16 of the 2006 World Cup where they lost to eventual champions Italy. "It's going to be very difficult to have anything like the players we had in 2006. We had eight players who were regulars in the Premier League, two in Serie A and one in La Liga." 
Finally, Mark discussed his plans for the future. He has been doing media work recently and I wondered if he was interested in coaching.
"I'm least interested in getting involved in coaching, I haven't got any of my coaching badges. I'm enjoying that I'm in control of my own life for a change. When you're playing football you're confined to a schedule for 10 months a year. I enjoy doing media work and talking about football and I'm at a point where I actually don't miss playing."
You can find Mark on Twitter at @schwarzer_mark